I skipped to fifty days because I have been playing every day but not writing nearly every day, but I feel it somewhat necessary to keep as an incentive to keep playing.
So tomorrow is Valentines day! Am I excited? Yes because the Japanese club event that I'm helping host is going to be happening which means a busy, awkward afternoon! I've actually advertised this quite a bit, so hopefully we'll get a good turn out. I'm a pretty good salesperson too; not afraid to talk to people. Today when we were filling the bags I probably gave the date/time of the event to six people that passed by wondering what we were doing.
Ahh, it's events like these that makes me happy I didn't get chosen to be Japanese club president. Because good lord, Betsy has been running around so much to get this thing together. She's done a good job though, and the event should go pretty smoothly tomorrow. I just hope my 50 cent bag idea was a good one though.
I am, however, NOT excited about the fact that Alex has not talked to me ALL day!! >:( And he hasn't mentioned Valentines day at all... granted we've only been hanging out for a week, so I guess it doesn't matter. I'll just lay low. Maybe he'll just total space it and we'll just blow over it. I'll have a lot of fun tomorrow at the event thing, though, so I don't care.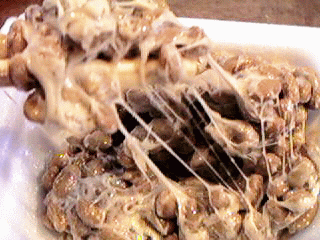 Today in class I tried natto, fermented soy beans, and it made me almost puke and the whole class thought it was hilarious. I'm gonna upload the video here shortly. It was so disgusting, I couldn't even hold them in. I'm sorry Japanese people, but what the Hell.... So, so, sticky weird!!! Okay, okay... Calm down...
In all honesty you guys, I really did want to try Natto and be respectful about it, and even had Hannah take a video so I could give a valid judgement. I figured it'd just be a little stale tasting or bitter, but no you guys. It was the single weirdest thing I've ever tasted. I can't even describe it.
Sensee is so awesome for bringing it though. Now I know what not to order if I ever go to Japan.
My mom just realized we have a ton of leftover fairytale brownies. I think we should freeze them.
peace.